Condoms, when used correctly, and consistently, offer the best protection against transmission of most STIs, including HIV.  Using condoms is as much about protecting you as it is about protecting your partner(s).
Free condoms are available at HIV Ireland and other organisations around Ireland.
Gettin' It On
This handy guide provides information on using condoms correctly: Gettin' It On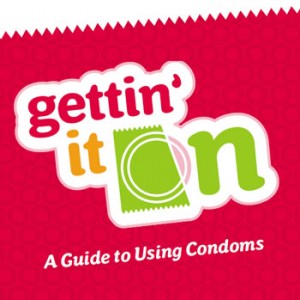 If a condom bursts or slips off:
Emergency treatment (PEP – Post Exposure Prophylaxis) is available for HIV and Hepatitis B within 72 hours of exposure.  Contact a hospital A&E department (or your local STI clinic) for assessment.
Emergency contraception is available through your GP, local doctor, some pharmacies or a family planning clinic up to 72 hours after exposure.
Lubricant (lube)
Lube is often used to give greater glide during sex, making sex more comfortable and pleasurable.
If you're using latex condoms, use only water-based or silicone-based lubes. Oil-based lubricants (like vaseline, baby oil, or massage oil) will damage latex condoms and should never be used with them.
Some latex condom-friendly lubes include: 'Wet Stuff', 'Pasante TLC', 'Liquid Silk', and 'K-Y Jelly.' You can find lube at most chemists and some larger grocery stores, and sex shops will have an even bigger selection.
If you're using a non-latex condom you can use an oil-based or water-based lube, but be sure you've got the right kind of condom before you do this!
Some tips when using lube:
Put lube outside and all over the condom, and in and around the vagina or anus.
Apply more lube during long periods of sex.
Never use saliva/spit as a lubricant; this increases the risk of a condom splitting because it dries quickly.
Never put lube on the penis before putting the condom on.  This can increase the risk of the condom slipping off.
Female Condoms
Female condoms are non–latex and when used properly are really effective against STIs.  It can take a little time and practise to use them properly – the instructions are found on the back of each packet and are listed below.
Before using the female condom:
Check the expiry date.

Check for CE and/or kite mark.

Check that there is no damage to the packet.

Female condoms can be inserted up to 8 hours before having sex and can be used at any stage during the menstrual cycle.

Open the packet and remove the condom.  Female condoms have lubricant on the outside already but additional water based lubricant can be used inside too.

Squeeze the inner ring between your thumb and forefinger.  Insert the condom into the vagina and push inside as far as you can.

Put your finger inside the condom until you can feel the bottom of the inner ring and push it until it can go no further.  The larger outer ring will stay on the outside of your vagina.

When sex begins, guide your partner's penis into the outer ring and make sure it does not go down the side, passing the condom.

After sex &/or ejaculation, twist the outer ring three times (to keep the semen inside) then gently pull it out.

Wrap the condom and dispose of it safely and hygienically (not down the toilet).
Female condoms should only be used once and shouldn't be used with male condoms.
Availability: HIV Ireland keeps a limited stock of female condoms – available free.  They are not always in stock so it is best to contact us to check.  Female condoms are also available from some chemists and family planning organisations.
Dental Dams / Glyde Dams
Dams are thin latex sheets, (also available in non latex), that cover the vaginal or anal area acting as a barrier during oral vaginal or oral anal sex.  Dams come in a variety of colours or flavours.
How to Use:
Check expiry date.

Open the dam and put a few drops of water–based lubricant on the underside of it.  This will help hold the dam in place and increase sensitivity.

Place over your partner's vulva (vagina, clitoris and labia), or over the anus for rimming.

Use/lick one side of the dam only.

Never re-use or share dams.

If you can't find a dam, cut a condom or a latex glove into a rectangular sheet.

Store dams in a cool, dry place, away from direct sunlight.
Availability: Difficult to source in Ireland.  May sometimes be found in Adult Stores or ask at your local STI clinic.