PrEP (Pre Exposure Prophylaxis)
What is PrEP?
PrEP is a medication taken by HIV-negative people to reduce the chance of getting HIV from having sex without a condom and from sharing needles or equipment to inject or use drugs.  The medication used for PrEP is a tablet which contains tenofovir and emtricitabine (sometimes known as Truvada).
How does PrEP work?
PrEP is proven to be safe and very effective to stop HIV from establishing itself inside the body.  Taking PrEP once every day reduces the risk of getting HIV from sex by more than 90%, and by more than 70% among people who inject drugs.  PrEP stops HIV from taking hold and spreading throughout your body.
PrEP does not stop you from getting other sexually transmitted infection (STIs), so PrEP is not a replacement for condoms.  Using condoms every time you have sex is the best way to prevent you from getting or passing on STIs.  You can get free condoms at HIV Ireland, 70 Eccles Street, Dublin 7 – just drop in during opening hours and ask at reception.
Is PrEP available in Ireland?
Yes.
From 4th December 2017, a generic version of the medication (Emtricitabine/Tenofovir disoproxil Teva) is available in pharmacies in the Republic of Ireland.  You can only get it with a doctor's prescription.
Teva Pharmaceuticals Ireland (Teva) are supplying this more affordable, generic version.
Do I have to pay for PrEP?
Yes.
Due to the fact that the Health Service Executive (HSE) has not yet moved to reimburse PrEP, the medication will not be available to patients under the GMS or Drug Payment Scheme and must be paid for in full by you on presentation of a doctor's prescription.
However, as Teva's PrEP is a generic form of the medication it is expected to be up to 70% cheaper than the current cost of its branded equivalent.
How much will PrEP cost?
The recommended retail price is around €100 for a month's supply of PrEP.  Prices may vary in different pharmacies.
Is PrEP for Me?
Are you HIV-negative but may be at high risk for HIV?  Taken every day, PrEP can help keep you free from HIV.  PrEP may help you if you are HIV-negative and any of the following apply to you:
You inject drugs and share needles or equipment to inject drugs.
If you are at risk of getting HIV from sex, for example:
– If you have an HIV-positive partner who is not on treatment or has a detectable viral load.
– If you have many partners, or a partner whose HIV status is unknown.
– If you don't always use a condom for sex.
– If you have recently had a sexually transmitted infection.
– If you are using drugs for sex, such as crystal meth, mephedrone, or GHB – also known as ChemSex.
PrEP is usually not necessary if you are only having sex with HIV-positive partners who are on treatment and have an undetectable viral load.  Having an undetectable viral load means that an HIV-positive person cannot pass on the virus through sex.
How do I get PrEP?
You must have a doctor's prescription to get PrEP.
As PrEP can only be used if you are HIV-negative, you will need to have a few tests before you start PrEP:
A (4th generation) HIV blood test.
A test for hepatitis B (because PrEP is active against both HIV and hepatitis B).
A kidney function blood test (because a small number of people taking PrEP have developed reduced kidney function).
A pregnancy test.
It is also a good time to get vaccinated against hepatitis A and B or boost previous vaccinations, and to get tested for other STIs such as syphilis, chlamydia, gonorrhoea and hepatitis C.
One of the best places to get these tests and to get your prescription for PrEP is from a HIV/STI testing clinic.  The tests are free of charge in public STI clinics.  View a full list of clinics around Ireland where testing is free.
.
PrEP prescribing/monitoring services based in Dublin include the following:
GUIDe Clinic, St. James's Hospital, Dublin 8
Anyone interested in PrEP can present for on-the-day tickets at the GUIDe Clinic or make an appointment for a future STI clinic for a PrEP Assessment with a doctor.

Clinics days and times are:

Walk-In – Mondays at 9am, Tuesdays at 2pm, Thursdays at 2pm

Referral only – Fridays at 9am

All walk-in clinics require tickets which are distributed from 8am onwards on the day of the clinic.

Visit www.guideclinic.ie for more information.
Gay Men's Health Service (GMHS), Meath Primary Care Centre, Heytesbury Street, Dublin 8, D08 HX97. Tel: 01 921 2730; 087 941 0934; Email gmhsclinic@hse.ie
The clinic takes place on Thursdays from 10am to 12 noon offering PrEP monitoring tests and support for men who have sex with men, rapid HIV tests, and full STI screening.  This is a PrEP monitoring service only and PrEP is not available at the clinic.  Also provides prescriptions for PrEP.
Prevention Support Clinic at Clinic 6, Mater Misericordiae University Hospital, Eccles Street, Dublin 7.  Appointment only clinic on Tuesday afternoons.  Tel: (01) 803 2063 to make an appointment or email psc@mater.ie.
Read the clinic information leaflet here.
Prevention Support Clinic at St. Vincent's University Hospital, Elm Park, Dublin 4.  This is a self-referral clinic.  You must complete a referral form, return it by post, and an appointment will then be assigned.  You can access the referral form and further information here.
.
You can also get a prescription from your GP but some GPs may not be aware of PrEP and the tests that are required.
The HSE has published a document offering practical guidance on PrEP for healthcare workers in Ireland.  You could refer your GP (or any doctor) to this guide to ensure that you get the best health care possible before starting PrEP.
View / download the document here:
Practical Guidance for Healthcare Workers in Ireland on HIV Pre Exposure Prophylaxis (PrEP)
Teva Pharmaceuticals Ireland has also produced a number of guides for those prescribing PrEP.
Emtricitabine/Tenofovir (PrEP) Prescriber guides:
What pharmacies are stocking PrEP?
Click on the map below to find your nearest pharmacy that is stocking PrEP.  (This map and information is supplied by Teva Pharmaceuticals Ireland).
We will endeavour to keep the map and it's information updated regularly.  The list of pharmacies is expanding weekly and you can also ask your local pharmacy to order the medication in if they don't currently stock it.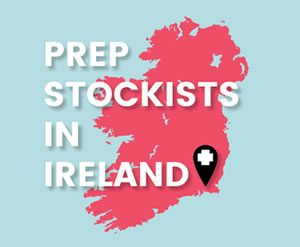 How do I take PrEP?
PrEP is a tablet that you take orally.  There are different dosing regimens but the best and most effectively proven regimen is taking one pill a day, every day.  This is the only recommended regimen for people who inject drugs or who have hepatitis B.  Talk to someone at your prescribing clinic about what dosing regimen will work best for you.
When you start taking PrEP you also have to get the drug levels high enough in your body to protect you:
for anal sex, you will need to take at least two tablets 24 hours before sex, and then continue to take one every day.
for vaginal sex, you will need to take PrEP for 7 days before sex and then continue to take one every day.
So I've started taking PrEP!  Now what?
Once you have started PrEP, you will continue to see your doctor every 3 months for more tests and a new prescription.  These tests include:
A '4th generation' HIV blood test.
A full screen for other STIs.
A kidney test (once or twice a year).
What do I do if I miss a pill?
If you miss one or two pills, don't stop.  Just continue once you remember.  There is likely to be enough drug in your body to protect you against HIV.
If you are missing several doses a week, you are not going to be protected against HIV if you are exposed to it.
If you are taking PrEP, try to pick a regular time each day to take it.  You don't have to take the tablet at the exact same time every day, but if you could link it to a daily task such as having your breakfast or brushing your teeth, it could help you remember.
Once I start, can I stop?
Yes you can.  It is always best to discuss your decision to stop with your doctor, and before you stop follow this advice:
If you've been taking PrEP to stop HIV through anal sex, don't stop until 48 hours after the last time you had sex.
If you've been taking PREP to stop HIV through vaginal sex, don't stop taking it until 7 days after the last time you had sex.
If you're at risk of HIV through injecting or slamming drugs, don't stop taking it until 7 days after the last risk for HIV.
******************************
More information about PrEP
PrEP Information Websites:
HSE Ireland Information Booklet:
The HSE has published an information booklet for people who are accessing PrEP themselves or are considering accessing PrEP.
View or download the booklet here:
HIV PrEP in Ireland (Portuguese)
Research on PrEP:
Research has shown that PrEP is highly effective in preventing the sexual transmission of HIV as long as the medication is taken regularly and as directed.  The PROUD study in the UK reported that PrEP reduced the risk of HIV infection by 86% for men who have sex with men (MSM).  Read more about this study at www.proud.mrc.ac.uk.
In what countries is PrEP available?
Access to PrEP is expanding globally.  The World Health Organisation (WHO) recommends that in all countries, PrEP should be available to MSM, alongside other HIV prevention interventions.  The European Centre for Disease Prevention and Control (ECDC) advises European countries to consider integrating PrEP into their existing HIV prevention package for those most at-risk of HIV infection, starting with MSM.
Keep up to date about access to PrEP at www.prepwatch.org.
Sourcing/Buying PrEP online:
In Ireland, it is against the law to supply prescription medication by mail order, including over the internet. The Health Products Regulation Authority (HPRA) provides information for the public in relation to sourcing medication over the internet.  View/download the HPRA information leaflet 'The dangers of buying prescription medicines online'.
The Health Products Regulation Authority (HPRA) have increased surveillance of PrEP orders coming in to Ireland.  Reports have been received of orders being intercepted by the HPRA and PrEP medicine being confiscated.
In addition to this, the HPRA have expressed particular concern about the legitimacy of the source of a recently seized supply of generic PrEP.  The HPRA are also examining the websites people use to source PrEP.
There have been no reports from the HPRA or any other appropriate bodies stating that the medicine being sourced online is not effective as PrEP.  However, sourcing medicine online does carry a level of risk and so we encourage caution if you intend to do so.
Please remember…
If you are sourcing PrEP by any means, engage with your local sexual health service for testing and monitoring.  Clinics want to see people who are taking PrEP so that they can look after them in the best possible way.
If the HPRA intercepts a PrEP order it will be confiscated.  Under no circumstances will the PrEP drug be released to you.  Any amounts spent on purchasing the drug will be lost.
If the HPRA contacts you about having placed an order for PrEP online – you are not in any trouble.  If they ask you for information on how you ordered PrEP, you are under no obligation to respond.  However, the role of the HPRA is to protect the public from illegitimate drugs and their suppliers – any information supplied by you will be used to better understand the circumstances around supply of medicines and protect the public from bogus suppliers.