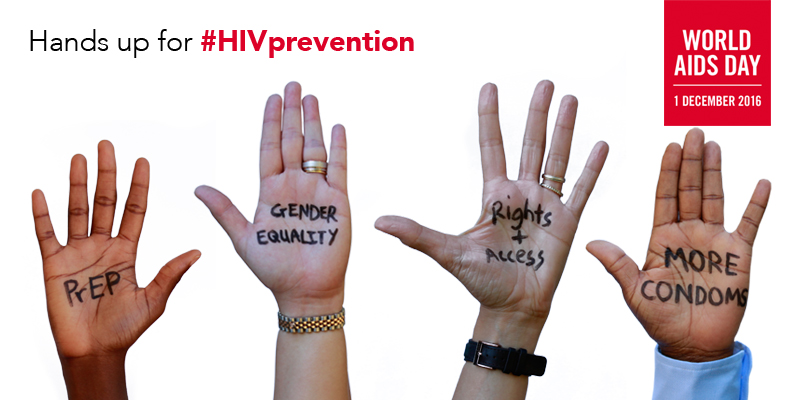 HIV Ireland is supporting this UNAIDS global campaign for World AIDS Day 2016 which explores different aspects of HIV prevention and how they relate to specific groups of people, such as adolescent girls and young women, key populations and people living with HIV.
The campaign started in September 2016, offering people a space to express their views on what they think needs to be done to strengthen HIV prevention efforts.  UNAIDS is asking people around the world to submit:
(1) a photograph of a word or short phrase, written on the palm of your hand, summarising what you think is needed to strengthen HIV prevention efforts (for example more condoms, more access to testing, zero discrimination, etc.).
and/or
(2) a short video message (maximum 30 seconds) explaining what in your view needs to be done to reduce new HIV infections in your own community.
Share It: Go to the UNAIDS Facebook page and upload your photo/video on the event page specially created for the campaign.  Then share it on your own Facebook wall to help spread the word and don't forget to tag the HIV Ireland Facebook page also.
Campaign Materials: there are a range of campaign materials available to view and download on the UNAIDS campaign page.