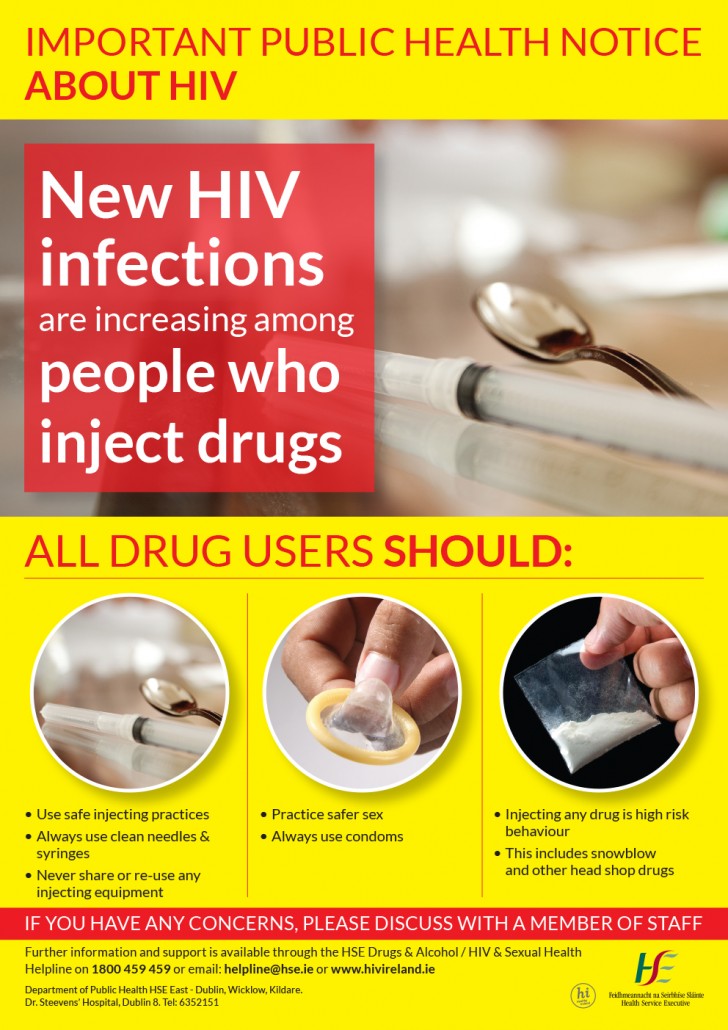 New HIV infections are increasing amongst people who inject drugs (PWID) in Ireland, and particularly in the Dublin region.  Between 2012 and 2014 there was a 68% increase in new HIV diagnoses among PWID (from 12 in 2012 to 27 in 2014).  In addition, the number of new diagnoses amongst women has increased by 367% (from 3 in 2012 to 14 in 2014).
A multidisciplinary incident team has been set up by the Director of Public Health in Dublin to investigate and respond to the increase.  The team includes public health and HIV Physicians, GPs providing services for drug users and homeless populations, HSE Social Inclusion, addiction clinicians, clinical virologist and the Health Protection Surveillance Centre (HPSC).
Clinicians from the drug services are concerned that the increase is linked to injection of a synthetic cathinone PVP, street name 'Snow Blow', resulting in more frequent injecting and unsafe sexual and needle sharing practices.  This has mainly been seen in chaotic drug users, who report polydrug use, and are often homeless.
In response to the increase, a new leaflet and poster have been developed to raise awareness of increasing HIV infections and promote testing and safer sex and injecting practices.
Organisations working with PWID are encouraged to engage in delivering key messages to service users including:
Use safe injecting practices: always use clean needles and syringes; never share or re-use any injecting equipment; access needle exchanges (list available on www.drugs.ie).
Practice safer sex – always use condoms.  Condoms are free at HIV Ireland and a range of other organisations.
Download/View the information leaflet.
Download/View the information poster.