The theme for Ireland's World AIDS Day Campaign 2015 was:
Solidarity with all people living with HIV, both those who know they are living with HIV, and those who don't.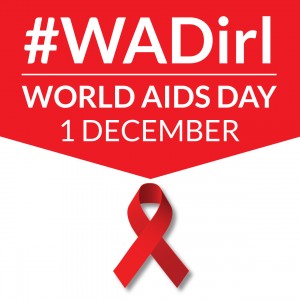 Launched by the Minister for Health, Leo Varadkar, this first ever five-day national World AIDS Day campaign in Ireland took place from 27th November to 1st December 2015.  The campaign was developed by a partnership of NGOs and statutory bodies, some of whom participate on the National Sexual Health Communications Working Group.
The focus of the campaign was Solidarity with all people living with HIV and aimed to raise awareness about the many issues that present themselves for people living with HIV and those at risk of contracting HIV.  The key messages of HIV Support, HIV Knowledge, HIV Visibility, and HIV Stigma were promoted through a social media campaign.  The hashtag for the campaign, #WADirl, trended on Twitter on 1st December.
The Lord Mayors of Dublin and Cork and Mayors of Limerick and Galway supported the campaign and national and regional press releases were issued.  City councils and local authorities showed their support by lighting up prominent buildings in red in cities across the country and Dublin City Council displayed flags along the river Liffey during the campaign.  An LED truck promoting the key messages of the campaign and relevant regional information travelled around Dublin, Galway and Limerick.