HIV Ireland, and Gay Health Network, call for PrEP in response to HIV crisis -Ten new HIV diagnoses every week in Ireland –
PRESS RELEASE – Wednesday 14th June release date
HIV Ireland, and Gay Health Network, call for PrEP in response to HIV crisis
-Ten new HIV diagnoses every week in Ireland –
Wednesday 14th June 2017
HIV Ireland, and the Gay Health Network are calling for Pre-Exposure Prophylaxis (PrEP) to be made available in Ireland through the Health Service Executive's general medical scheme (GMS). PrEP is a once daily medication that, in combination with safer-sex practices, has been proven to significantly reduce the risk of sexually acquired HIV-1 infection among uninfected adults at high risk.
In response to the ongoing HIV crisis in Ireland, HIV Ireland and the Gay Health Network issued the call on Irish AIDS Day, 15th June, at the launch of a key policy options review paper conducted by Dr. Ann Nolan (International Development Specialist).
With new HIV diagnoses in Ireland increasing to their highest level on record in 2016, a joint statement from Noel Sutton, Chairperson of the Gay Health Network, and Niall Mulligan, Executive Director of HIV Ireland stated; ''HIV Ireland and the Gay Health Network are calling for Pre-Exposure Prophylaxis (PrEP) to be made a public health priority in Ireland. New HIV diagnoses nationally have increased by 35% since 2011. A total of 512 people were newly diagnosed as living with HIV in 2016, compared with 485 in 2015 [www.hpsc.ie – provisional data]. Of particular concern is the continued high level of new diagnoses amongst men who have sex with men (MSM). To reverse this alarming upward trend, PrEP must be introduced as a key HIV prevention intervention'.
Dr. Nolan added that "The message to the Health Service Executive arising from this study is clear: PrEP promises to be one of the most important innovations in the global response to HIV, and Ireland's escalating epidemic suggests that we cannot afford to be left behind! Sustained increases in sexually acquired HIV are a cause for concern not only in Ireland but across Europe and North America. It is evident from this Irish-centred study that a range of health care providers identify a need for Ireland to join the increasing number of countries making PrEP available to people at risk of HIV as part of a comprehensive package of prevention measures."
Speaking at the launch, Dr. Patrick Mallon, (Consultant in Infectious Diseases Mater Misericordiae University Hospital) confirmed that 'As part of HIV prevention, safety and efficacy of currently approved PrEP medication is well established, and the high level of support for PrEP implementation among key stakeholders and potential end-users who participated in this study points to the need for immediate steps to be taken to make PrEP available to key populations at risk of HIV in Ireland'.
The official launch of Dr. Nolan's paper will take place in HIV Ireland, 70 Eccles Street, Dublin, at 10.00am on Thursday 15th June 2017.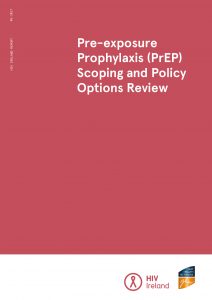 For information about HIV, testing, safer sex and support please visit – www.hivireland.ie; www.man2man.ie; www.positivenow.ie
End
https://hivireland.ie/wp-content/uploads/logo-300x138.png
0
0
HIV Ireland
https://hivireland.ie/wp-content/uploads/logo-300x138.png
HIV Ireland
2017-06-14 12:52:37
2017-06-15 08:51:25
HIV Ireland, and Gay Health Network, call for PrEP in response to HIV crisis -Ten new HIV diagnoses every week in Ireland –