HIV Ireland is committed to ensuring that the development and progression of its work on HIV is evidence-informed, and as such the commissioning of, and involvement in, key research projects are a priority.
HIV Ireland places a strong emphasis on research and an evidence-informed approach (both national and international) when presenting key policy issues and positions.
It is our policy to ensure the inclusiveness of the voices and experiences of people living with HIV when working on any policy issues that affect HIV-positive people.
The information provided by participants in research and studies about HIV, and about living with HIV, provides us with the information needed to develop new initiatives aimed at improving HIV services and related policies, and reducing negative outcomes for people living with HIV in Ireland.
*****************************
HIV in Ireland 2017
This research contains data from two surveys:
National HIV Knowledge and Attitudes Survey 2017.
People Living with HIV Stigma Survey 2017.
These two surveys present us with valuable insights into the views and attitudes of the whole population as well as the lives of people living with HIV in Ireland in 2017.
The Summary Report was launched at our National HIV Conference on 28th September 2017.
View/download the Summary Report.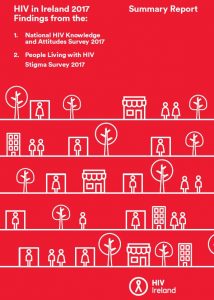 *****************************
Flash! PrEP in Europe Online Survey 2016
*****************************
MSM Internet Survey Ireland (MISI) 2015
*****************************