World AIDS Day (WAD) takes place annually on 1st December. 2020 marked 32 years of World AIDS Day – a pioneering global health campaign first initiated by the World Health Organisation (WHO) in 1988.
The global theme for 2020 was Global Solidarity, Shared Responsibility.
Read the 2020 World AIDS Day Statement from Uachtarán na hÉireann/President of Ireland, Michael D. Higgins and Patron of HIV Ireland.
GLOW RED

for World AIDS Day, 1st December, 2020
Buildings and monuments across Dublin and nationwide participated in the #GLOWRED4WAD campaign on the 30th of November to 1st of December.
Tánaiste Leo Varadkar TD led the way by lighting up Government buildings and Lord Mayor of Dublin, Ms Hazel Chu lit the Mansion House to mark the day.
Other buildings and monuments lighting up for the day included:
The Rock of Cashel, the Guinness Storehouse, Liberty Hall, Dublin City Hall, Deloitte, the Bedford Tower at Dublin Castle, Rathfarnham Castle, the Royal College of Surgeons at St. Stephen's Green.
Special thanks to Tánaiste Leo Varadkar TD, Her Excellency the Lord Mayor of Dublin, Ms Hazel Chu, Dublin City Council, The Office of Public Works, SIPTU, Diageo, Deloitte, and the Royal College of Surgeons in Ireland for supporting this campaign and standing in solidarity with people living with HIV.
And many others joined in too.
We put a call out to the general public to wear something RED for the day and take a photo to share with us on Twitter #GLOWRED4WAD.
Thank you to everyone who supported our #GLOWRED4WAD campaign.
Here's a look at some of the photos shared with us. You all looked dashing in RED.
Positive Perspectives Webinar
On Monday 30th November, ahead of World AIDS Day, GSK and ViiV Healthcare held a webinar to highlight the findings of the Positive Perspectives Study in both a global and Irish context.  The webinar was launched by the Minister of State with responsibility for Public Health, Wellbeing and the National Drugs Strategy, Frank Feighan TD, and supported by HIV Ireland and Sexual Health West.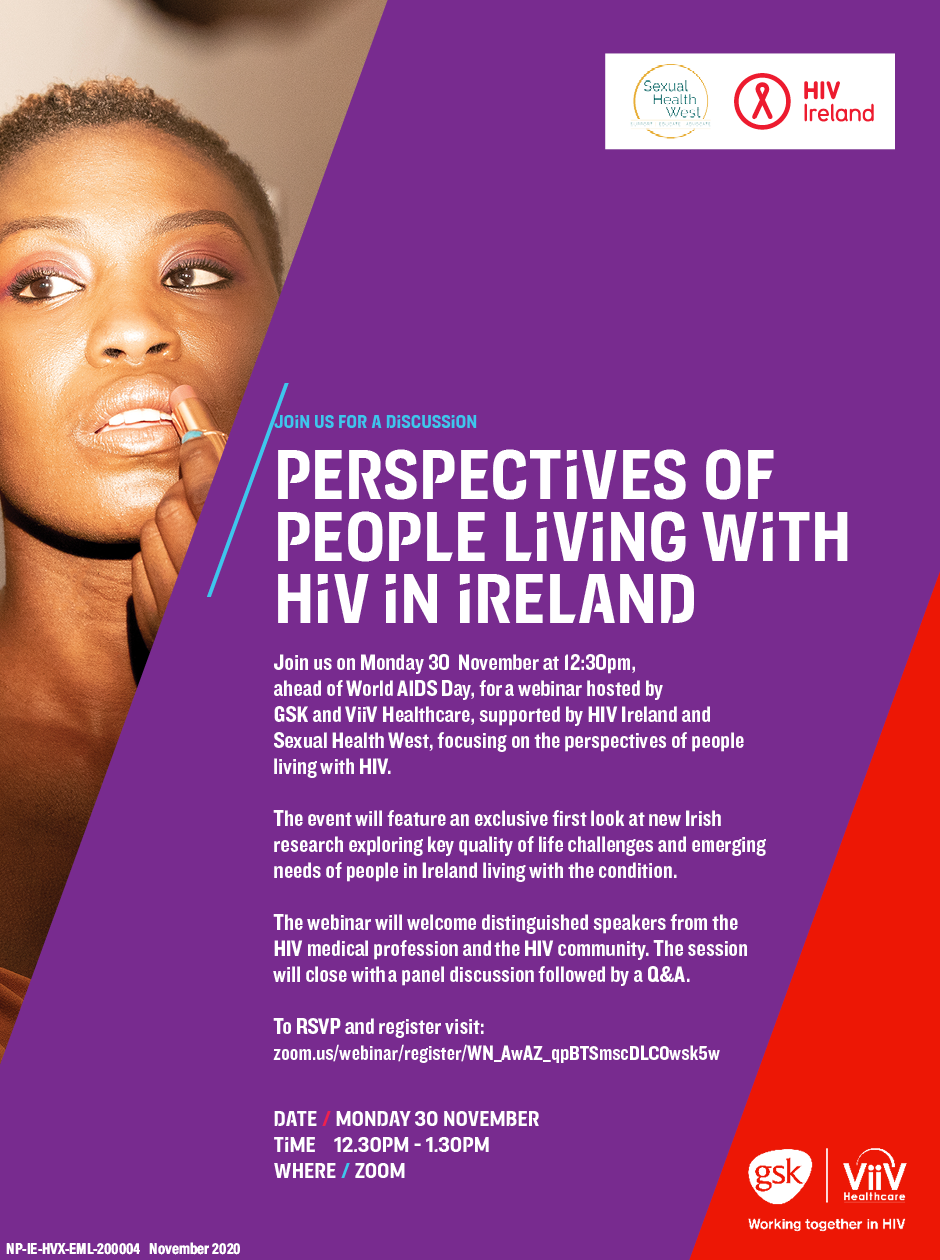 World AIDS Day Conversations with Panti Bliss
GCN and HIV Ireland presented our third annual joint World AIDS Day awareness-raising and fundraising event, an evening of conversation with the Queen of Ireland, Panti Bliss. The virtual event was broadcast live on Tuesday 1st December 2020.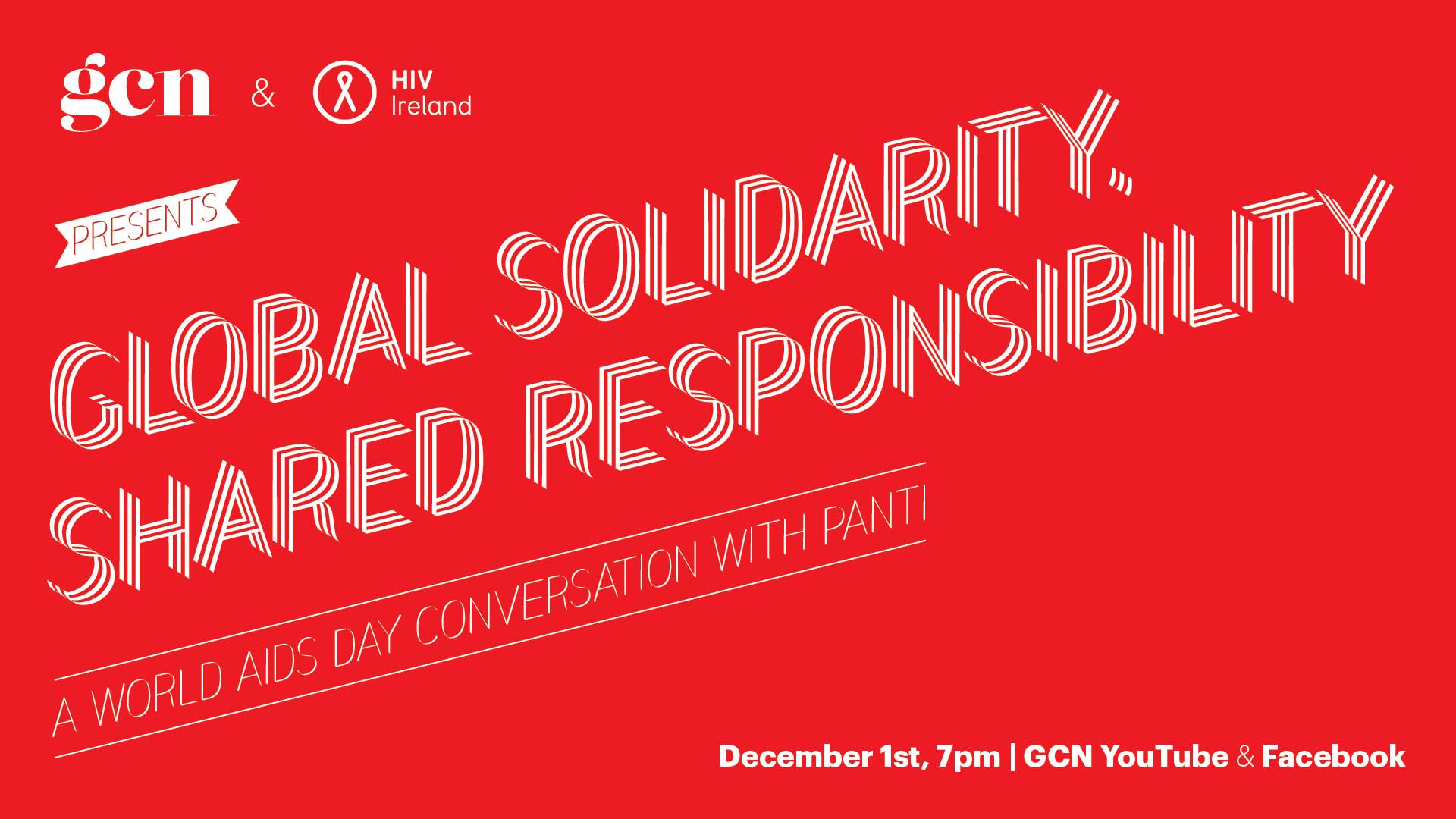 Panti spoke to a number of prominent HIV activists in the Irish community. Judith Finlay, one of the founders of Queer Culture Ireland spoke about 'The Quilt: Echoes & Memories', an exhibition of the Irish Names Quilt by Queer Culture Ireland in collaboration with Dublin Pride, which runs until 31st December 2020 at Filmbase, Temple Bar. The exhibition is dedicated to the project's first Custodian, Mary Shannon, who sadly passed away in July 2020.
Panti was then joined by Drag sensation VEDA who shared her experience coming out as HIV Positive last year.
Adam Shanley, HIV Ireland's MPOWER Programme Manager spoke about the challenges facing Ireland's LGBTQ+ community from a sexual health perspective during the COVID-19 pandemic highlighting the ongoing closure of the GMHS.
Andrew Leavitt was the final guest of the evening and shared the U=U message that effective HIV treatment (or medication), and an undetectable viral load, means that the risk of HIV being passed on through sex is zero.