Established in 1987, Dublin AIDS Alliance Ltd is a voluntary organisation working to improve conditions for people living with or affected by HIV and AIDS. Dublin AIDS Alliance Ltd is now trading as HIV Ireland.
HIV Ireland operates under an ethos of equality and is committed to making a positive contribution towards a humane and just society. We strive to ensure that our staff, volunteers and service users
are treated with dignity and respect at all times and to create an environment that promotes equal opportunity and prohibits discrimination.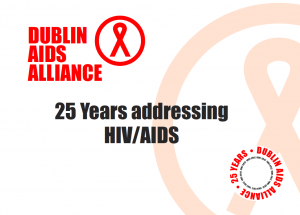 In 2012 Dublin AIDS Alliance marked 25 years addressing HIV/AIDS in Ireland and we produced a brochure chronicling those years internationally, nationally and as an organisation:
Click here to view the Dublin AIDS Alliance 25 Year Brochure