World AIDS Day (WAD) takes place annually on 1st December.
2018 marked 30 years of World AIDS Day – a pioneering global health campaign first initiated by the World Health Organisation (WHO) in 1988.
Panti Bliss and Professor Fiona Mulcahy in Conversation: The Legacy of AIDS Activism in Ireland
Marking 30 years of World AIDS Day, this joint GCN and HIV Ireland community and fundraising initiative took place on 29th November 2018 in Smock Alley Theatre.  Panti Bliss hosted a conversation with Professor Fiona Mulcahy exploring the legacy of AIDS activism in Ireland, the changing landscape of medical research and new challenges in light of increasing new HIV diagnoses in Ireland.
The stage was set with a number of panels from the Irish AIDS Memorial Quilt which paved the way for a conversation that looked to the future while remembering the past.
Professor Fiona Mulcahy has been the Consultant in charge of Ireland's largest HIV clinic in St. James's hospital since 1987, when AIDS was making a devastating impact here.  The conversation chronicles Professor Mulcahy's experiences of the transformation of HIV in Ireland (and globally) from a terminal to a chronic illness, from people dying in the 80's and 90's to the introduction of antiretroviral treatment (ART) in 1996, through to the advent of Treatment as Prevention and PrEP.  Panti Bliss shared her own experience of being diagnosed with HIV in 1995.
Professor Mulcahy spoke about how she sees the future of HIV prevention being at the centre of community-led initiatives:
"I think my role will diminish and the roles of the hospitals will diminish. I think where the future is, is in the community. So if I was to ask the community to do anything, it would be to set up more testing. I think they will take over dispensing PrEP, I think they will take over PEP.  I think it will be programmed, I'll be happy to drive it."
The event was kindly supported by GSK Ireland working on behalf of ViiV Healthcare in HIV, and a podcast of the conversation can be found at gcn.ie.
This historical event and conversation will be an asset to the National HIV and AIDS Archive project, a comprehensive collection of material in Ireland charting the story of HIV and AIDS over three decades.
#5Asks: Political Briefing
To mark the 30th anniversary of World AIDS Day 2018, HIV Ireland held a political briefing on 28th November 2018 in the AV Room in Dáil Éireann, and published a key framework document asking for political commitments to prioritise and accelerate the response to the growing HIV crisis in Ireland.
The #5Asks are:
#1. Increase resources to expand community-based and healthcare-based HIV testing across Ireland.
#2. Resource national promotion of the U=U message to combat HIV-related stigma and encourage more people to get tested.
#3. Commit to the international Fast-Track Cities initiative to accelerate the response to HIV nationally.
#4. Increase resources for community-based supports for people living with HIV in Ireland.
#5. Invest in HIV prevention services and implement a national PrEP programme in Ireland.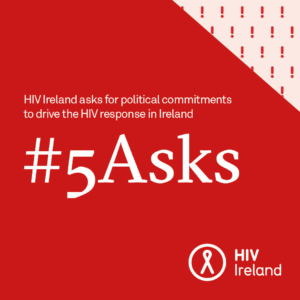 The theme for the 30th year of World AIDS Day was 'Know your Status' and five political party leaders from the Green party, Labour party, Social Democrats, Sinn Féin and Fianna Fáil took rapid HIV tests at the event to increase awareness and encourage people to avail of HIV testing services.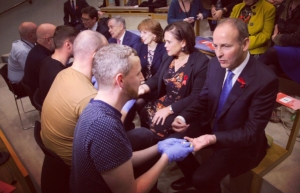 View the Event Press Release.
HIV Ireland teamed up with Durex for World AIDS Day 2018 to support and promote the global 'Give a F**k' (#GAF) campaign.  Durex has partnered with non-profit organisation (RED) to support its mission to end AIDS.  Boxes of limited edition Durex RED condoms went on sale nationwide with funds raised going directly towards a programme in South Africa.  The 'Keeping Girls in School' programme aims to reduce new HIV infections and pregnancies among young women, through encouraging girls to stay in education and improving access to sexual health and reproductive services.