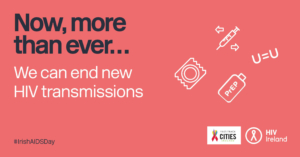 Now, more than ever, we have a range of tools available in Ireland to prevent HIV acquisitions, and to end new HIV transmissions.
HIV can be prevented.  Learn about the options available and decide what works best for you.
HIV can be prevented by:
Education: keep yourself informed about HIV, your sexual health, and harm reduction and prevention options so you can make the best choices for you. 
If you have any questions, or would like to speak to someone about HIV, we are happy to help.
Our Community Support team provides a range of support services for people living with HIV, and our MPOWER outreach team provides support to gay and bisexual men.