Flash! PrEP in Europe Online Survey
PrEP (Pre Exposure Prophylaxis) is a new HIV prevention method where people who do not have HIV take a pill daily to reduce their risk of becoming infected.  PrEP is not yet licenced in Ireland.  In order to inform the current debate in Ireland on PrEP, HIV Ireland are supporting and promoting a European-wide survey called 'Flash! PrEP in Europe'.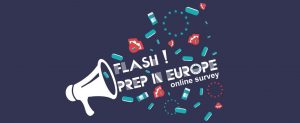 The survey is targeting all population groups who are most exposed to HIV including people who inject drugs, men who have sex with men (MSM), migrants, transgender people, sex workers, people who are homeless and individuals in serodifferent couples.  The survey is for those aged 18 years and over, who are HIV negative or don't know their status and takes approximately 15 to 20 minutes to complete.
This is an opportunity for individuals and groups to have their voice heard on this important issue for HIV prevention in Ireland, and across Europe.  It will help us to gather evidence and assess the acceptability of PrEP amongst individuals and groups in Ireland who are most exposed to HIV – would you use PrEP? Have you already used it?
The survey is available online until 13th July 2016, and can be completed at: http://tinyurl.com/prepineurope