GCN and HIV Ireland's annual fundraising event returns with Panti and Gareth Thomas.
This article was first published on GCN.ie on 13 November 2019, written by Katie Donohoe.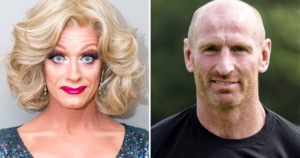 After last years sell-out fundraising event with Professor Mulcahy, GCN and HIV Ireland are proud to present our second annual fundraising event, an evening of conversation between two legends of the LGBT+ community, Panti Bliss and Gareth Thomas.
This year's World AIDS Day theme is 'Communities make the difference', Panti will host the trailblazing Gareth Thomas in an hour-long conversation exploring the power of visibility and representation to breakdown stigma around living with HIV and their shared leadership and advocacy for the LGBT+ community in their careers and lives so far keeping people at the centre and leaving no one behind.
The commemoration of World AIDS Day, which takes place annually on December 1 2019, is an important opportunity to recognise the essential role that communities have played and continue to play in the HIV response at the international, national and local levels.
GCN's Managing Editor, Lisa Connell said:
"This event will be our second collaboration with HIV Ireland for World AIDS day. After last years sell-out event with Professor Mulcahy and Panti raising over €4,000 for both charities we're delighted to come together once more and host two modern LGBT+ icons and true changemakers for people living with HIV, Gareth Thomas and Panti. The theme for 2019's World AIDS Day is 'Communities make the difference' and with community representation being at the heart of what we do every day we're very privileged to host this special event."
Stephen O'Hare, Executive Director with HIV Ireland added:
"We are delighted to welcome Gareth Thomas to Ireland for this year's World AIDS Day initiative and we thank Panti Bliss for supporting us once again. This year's World AIDS Day theme is 'Communities make the difference' and we wanted to highlight this with an event that puts the community of people living with HIV at the centre. The Fast-Track Cities initiative commits us to achieve ambitious targets including eliminating barriers faced by people affected by, and living with, HIV, including stigma and discrimination. Both Gareth and Panti are already playing a huge part in this globally and World AIDS Day is a fitting time to bring both these stigma-busting champions together in conversation."
You can buy tickets on Eventbrite now.
This event is a fundraiser for GCN & HIV Ireland and is proudly supported by GSK, Dublin City Council, HSE Sexual Health and Crisis Pregnancy Programme and Trinity College Students Union.