Press Release – Mater Hospital and HIV Ireland launch new community based STI Clinic in Dublin at time of rising rates of HIV
30th November 2020 (for immediate release)
New community-based sexual health screening service to open in Dublin at time rising HIV rates in Ireland.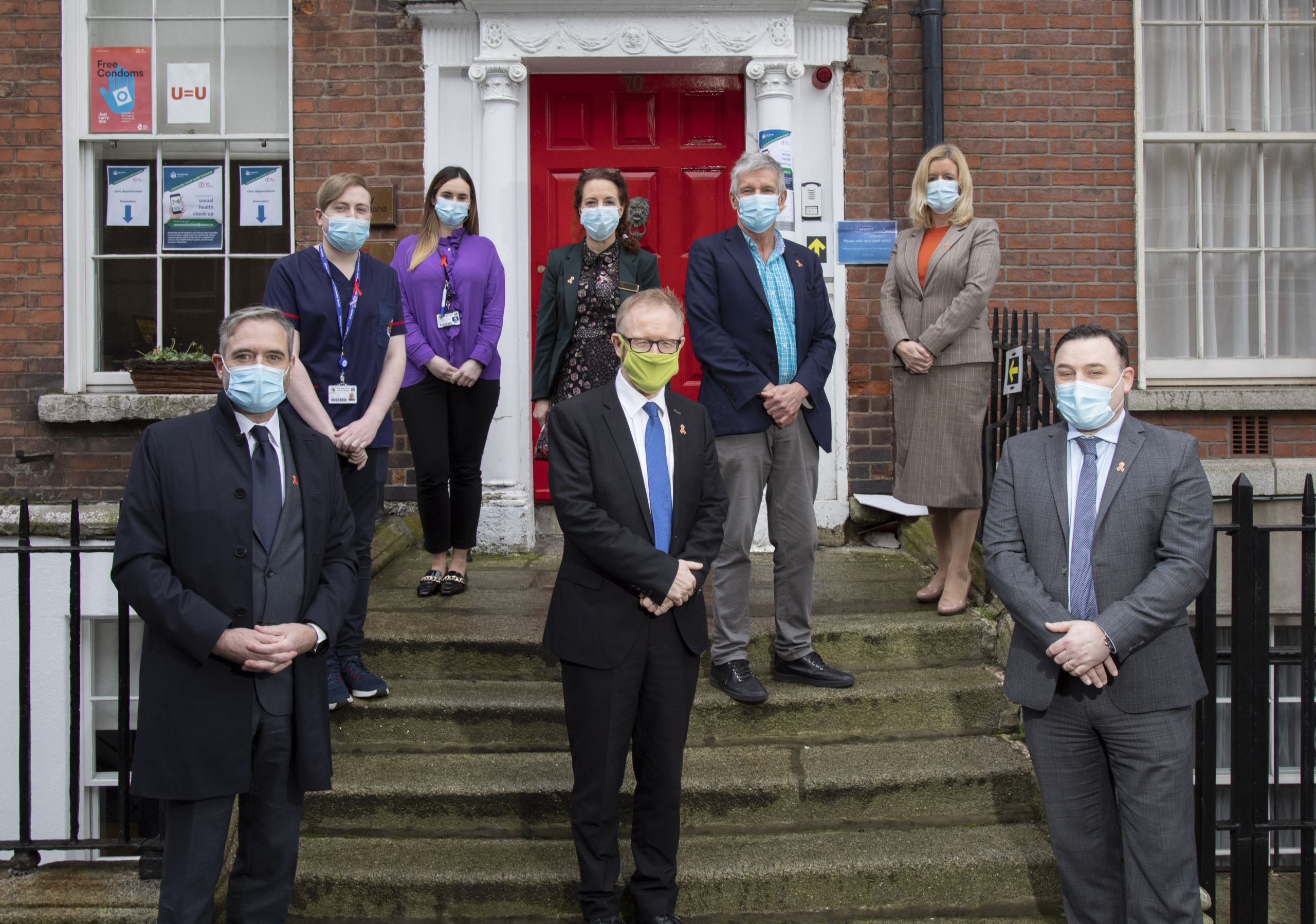 A new community-based HIV and STI sexual health screening clinic has been opened in Dublin today by Mr Frank Feighan TD, Minister of State with responsibility for Public Health, Well Being and National Drugs Strategy.
The clinic, a partnership between the Mater Hospital STI Clinic headed by Prof Jack Lambert and leading HIV nongovernmental organisation HIV Ireland, will operate three days per week.
Speaking at the opening, Minister Feighan said "I am delighted to open this new service which is a great example of partnership in the health services, with HIV Ireland joining forces with the Mater Hospital to provide a new HIV and STI screening service. This will greatly enhance our existing community-based sexual health screening capacity."
"It is particularly fitting that we are launching this new service on the eve of World AIDS Day. This provides us with a welcome opportunity to remember those who have been lost to AIDS-related illnesses, and to remind ourselves of the need to keep focusing on what we can do to strengthen our efforts in the area of prevention and support for those living with HIV," added the Minister.
At the clinic, Minister Feighan met Chief Executive Officer of Mater Hospital Group Mr Alan Sharp, Chief Operating Officer, Ms Josephine Ryan, Prof Jack Lambert, Consultant in Infectious Diseases and Genitourinary Medicine, Deputy CEO and Director of Nursing Ms Suzanne Dempsey and Mr Bernard Condon, Chair of HIV Ireland.
"Despite the many challenges confronting us in relation to COVID-19, the Mater Hospital is committed to expanding our community partnership approach to sexual health and related services." said Mr Alan Sharp, Mater CEO. "The location of the clinic makes this partnership a natural fit, situated minutes from the Mater STI Clinic and allowing for seamless integrated service delivery between the hospital and the community setting" he said.
Describing the service, Prof Jack Lambert, Consultant in Infectious Diseases and Genitourinary Medicine, said " "The community sexual health clinic is an outworking of a project which began almost a year ago, with the support of the Department of Health Sláintecare funding programme and will provide a nurse specialist led sexual health and wellbeing service for the north Dublin population."
"This service will be supported with on-site consultant support, and quick patient friendly referral to hospital/clinic services as needed, providing a timely and seamless service that is a new model of care for Ireland," said Prof Lambert.
Services at the community clinic will facilitate routine testing, treatment, and follow- including for individuals notified as contacts of infection. The clinic will also provide access to wellbeing services including access to support, education, provision of condoms and lubricants, as well as links to additional support services such as HIV Ireland's Community Support for people living with HIV and its MPOWER programme for gay and bisexual men and men who have sex with men.
The community sexual health clinic will facilitate provision of asymptomatic testing allowing increased access within existing services for those experiencing symptoms of infection. Currently, those experiencing symptoms of an infection are seen within the Mater Hospital STI Service with plans to implement symptomatic screening within the community clinic in January 2021.
Speaking at the launch, Chair of HIV Ireland Mr Bernard Condon said, "HIV rates continue to rise in Ireland and the importance of testing as a means of preventing onward transmission and ensuring effective treatment cannot be overstated."
"The roll out of this service will see HIV Ireland's existing on-site testing capacity increase five-fold, from 50 per month to approximately 250 appointments per month", he added. "This will complement our existing testing programmes including ongoing partnership with the GUIDE clinic at St James's Hospital, rapid HIV testing at social venues in Dublin and our recently launched HIV Self-Test service," said Mr Condon.
The community clinic is located at the offices of HIV Ireland, 70 Eccles St, Dublin 7 and will conduct HIV/STI screening services by appointment only from 9.30am to 2pm on Monday, Wednesday and Friday each week. Anyone wishing to make an appointment is advised to contact the Community Clinic directly via email on communityclinic@mater.ie or through the Mater STI Clinic on 01-803 2063 (for those without access to email).
Ends
For media enquiries, contact:
HIV Ireland
Stephen O'Hare, Executive Director, HIV Ireland Tel: 085 711 26 35 Email: stephen.ohare@hivireland.ie
Mater Hospital STI Clinic
Colette Denham, Mater Press Office, email: cdenham@mater.ie
Photo:
Back Row L-R
Paul Duggan, Nurse Manager; Shauna Walsh, Administrator; Susanne Dempsey, Mater Deputy CEO and Director of Nursing; Prof Jack Lambert, Mater STI Clinic, Mater Chief Operating Officer Josephine Ryan;
Front Row L-R
Bernard Condon SC, Chair of HIV Ireland; Minister Frank Feighan TD, Minister of State with responsibility for Public Health, Well Being and National Drugs Strategy; Alan Sharp Mater Chief Executive Officer